Easy Shot Clip High Definition (HD) Digital Video Camera
&   Waterproof Housing Diving Kit From Concord Keystone
Weighs Just Over One Ounce And Captures HD Video and Sound at Depths Up To 100 Feet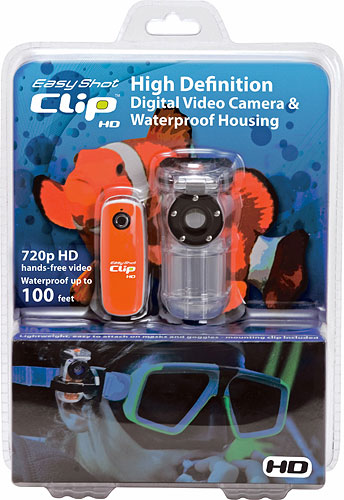 Concord Keystone, a leading developer  of cameras and smartphone accessories, introduced Easy Shot Clip HD  Diving Kit, a remarkably small, high-definition digital video camera and  underwater housing unit that allows divers and swimmers to capture 720p HD video and sound underwater up to depths of 100 ft/30m.
The Easy Shot Clip HD Diving Kit contains a tiny digital video camera camera with a built-in rechargeable Lithium-polymer battery. The kit also includes a mini-waterproof housing with optical UV filter, a 360˚ rotating mounting clip for diving facemasks or swimming goggles, a 4GB Micro SD Card, a USB cable, and an adjustable wrist strap. The camera has an expandable Micro SD card slot that supports up to 32GB card. The camera with the housing weighs just over an ounce and measures just 2.95-inches (H) X 1.4″ (D).
The Easy Shot Clip HD video camera is inserted into the specially fitted waterproof housing and clipped to the 360-degree rotating mounting bracket. The bracket can then be attached to the head strap of diving or swimming goggles. Scuba divers and water sport enthusiasts can capture up to 40 minutes of hands-free underwater video with the included 4GB card. Easy one button operation is the signature of Easy Shot Clip video cameras. Simply press the button to power on the camera and press again to record. Press the same button once more, the recording will stop.  It is perfect for use in scuba diving, kayaking, skiing and a day in the swimming pool as the camera can also be used without the waterproof housing for any outdoor clips.
The Easy Shot Clip HD video can be uploaded to a computer by simply connecting the camera to a computer with the USB cable. The Easy Shot Clip HD is compatible with Windows XP/Vista/Windows 7 & Mac OS X 10.4.7 or newer.