Archive for the 'Product Reviews' Category
Easy Shot Clip High Definition (HD) Digital Video Camera
&   Waterproof Housing Diving Kit From Concord Keystone
Weighs Just Over One Ounce And Captures HD Video and Sound at Depths Up To 100 Feet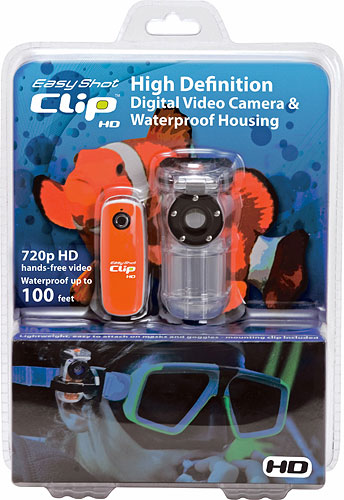 Concord Keystone, a leading developer  of cameras and smartphone accessories, introduced Easy Shot Clip HD  Diving Kit, a remarkably small, high-definition digital video camera and  underwater housing unit that allows divers and swimmers to capture 720p HD video and sound underwater up to depths of 100 ft/30m.
The Easy Shot Clip HD Diving Kit contains a tiny digital video camera camera with a built-in rechargeable Lithium-polymer battery. The kit also includes a mini-waterproof housing with optical UV filter, a 360˚ rotating mounting clip for diving facemasks or swimming goggles, a 4GB Micro SD Card, a USB cable, and an adjustable wrist strap. The camera has an expandable Micro SD card slot that supports up to 32GB card. The camera with the housing weighs just over an ounce and measures just 2.95-inches (H) X 1.4″ (D).
The Easy Shot Clip HD video camera is inserted into the specially fitted waterproof housing and clipped to the 360-degree rotating mounting bracket. The bracket can then be attached to the head strap of diving or swimming goggles. Scuba divers and water sport enthusiasts can capture up to 40 minutes of hands-free underwater video with the included 4GB card. Easy one button operation is the signature of Easy Shot Clip video cameras. Simply press the button to power on the camera and press again to record. Press the same button once more, the recording will stop.  It is perfect for use in scuba diving, kayaking, skiing and a day in the swimming pool as the camera can also be used without the waterproof housing for any outdoor clips.
The Easy Shot Clip HD video can be uploaded to a computer by simply connecting the camera to a computer with the USB cable. The Easy Shot Clip HD is compatible with Windows XP/Vista/Windows 7 & Mac OS X 10.4.7 or newer.
It can be a truly helpless feeling; you're separated from your boat, a lonely diver out in the water with no help in sight. Well, now you never have to worry about your dive boat finding you again as long as you carry the Nautilus Lifeline.
The Nautilus Lifeline is a radio, GPS and emergency beacon for divers. The unit can dive as deep as you want to go (up to 435 feet) without compromising its functionality. It has a fully functioning VHF marine radio that you can use to reach a boat within an 8 mile radius.
The Lifeline is easy to use. Push the button on the right to talk to every boat around you on CH 16 – the worldwide marine hailing frequency. The button on the left side of the unit allows divers to chat with their dive boat or other divers within the radius. Advanced software prevents you from accidentally jamming the frequency and even automatically adjusts your squelch so you don't have that annoying high pitched squeal in your ear.
The ultimate in diver safety is the DSC button. Press the button and your GPS position will be transmitted to every boat and marine VHF DSC radio within 8 miles. Their radios will switch to CH 16, alarms will sound, red lights will flash and your position will be shown on each radio display. Recharging the unit is simple too. You can recharge with the 1800 mAh lithium-ion battery or connect to your laptop or computer.
So if you are one of those divers who do a lot of diving and are concerned about safety this is a unit you don't want to miss getting.
Product Features
DISTRESS BUTTON: Depress button for 3 seconds for DCS transmission of distress message. The "Nautilus LifeLine" will send GPS coordinates that will display on the other vessel's marine radios within 8 miles. Activate optional non-emergency group call with GPS coordinates and automatic channel switch for all "LifeLines" belonging to a specific dive boat or group.
STROBE LIGHT: We prefer to call this the diver position indicating light. Dual strobes will flash on the "Nautilus LifeLine" when in "DISTRESS MODE" which is especially useful after sunset.
WATERPROOF HOUSING: Polycarbonate housing depth rated to 425 feet (130 meters). Tough enough to drive a Ford Explorer over during testing. Do not drive over your own "LifeLine".
GPS: The "Nautilus LifeLine" has the latest version Jupiter 3 GPS receiver displaying latitude and longitude on the LCD display.
LCD DISPLAY: Displays GPS position, signal lock, channel in use, battery remaining as well as volume, squelch, channel selection and GPS polling.
BOAT BUTTON: Press this button to turn radio GPS on to Channel 16, the universal hail and distress channel worldwide on EVERY marine radio. Use this button to select alternate channels 09, 14 or other pre-selected channels. The "Nautilus LifeLine" has imbedded software that prevents an inexperienced user from inadvertently locking the channel up.
CHAT BUTTON: Pressing the Chat Button on the "Nautilus LifeLine" will turn the radio GPS on or switch to user selected marine VHF frequency. Use this button to change channels to any marine frequency. This is a fully functional marine VHF radio. Use both buttons together to adjust volume or squelch, select GPS polling or turn radio off.
SPEAKER/MICROPHONE: The "Nautilus LifeLine" is waterproof to IP67 standards. Submersible to 3 feet (1 meter). The cap of your "LifeLine" can be opened on the surface (only) in any sea state allowing full use of all features.
USB PORT: Used for recharging the battery on the "Nautilus LifeLine", downloading GPS log of dive sites onto Google map or interface for adjusting advanced settings.
RECHARGABLE BATTERY: 1850 mAh lithium ion battery. The "Nautilus LifeLine" connects to any USB charger. 24 hours of battery life in "DISTRESS MODE".
ANTENNA: VHF whip antenna. Waterproof to IP67 standards. Extend antenna for maximum range. Easy to stow when not in use. Range can be further extended by holding the Nautilus Lifeline above your head in the "DISTRESS MODE".